Escape reality with a romantic romp,
starring 
The Best Girls!
Sizzling, but blush-free romance
S
Her Best Match
Feisty, forty-five, and bored with life in Texas, Anne Best is about to get more than she bargained for. The lovely widow with two grown daughters heads off to the Big Apple for a job interview, expecting no more than a few days adventure in New York City, only to find herself with a new job working for the most infuriating man she's ever met. Billionaire Steven Gherring is one of New York's Most Eligible Bachelors, and he has every intention of staying that way. But Gram has other ideas. She's on a not-so-secret campaign to find a wife for her grandson. Passions rise along with hemlines as Gram joins forces with Anne, a veteran matchmaker, to find the perfect match for Steven.
Book One of The Best Girls
Best Dating Rules
Emily Best is about to discover just how hard it is to stick to her own rules. The Best family has a whole set of rules about dating. But when Spencer comes into Emily's life, the rules start to unravel. Spencer has a reputation as a player, but he has a secret. (He's never kissed a girl!) He's been waiting for the right one, and he's certain that girl is Emily. But he won't admit the truth about his lack of experience. Will he forget his pride and tell Emily the truth? Will her handsome rescuer sweep her off her feet and out of Spencer's arms? A relationship fraught with misunderstandings, miscommunications, and mistakes makes Spencer fear he's missed his chance to make Miss Best his Mrs.
Book Two of The Best Girls
Best Foot Forward
Grace is about to make the biggest mistake of her life. Everyone knows Grace is spicy, fun, prone to mishaps, and little bit crazy. But though she encourages others to find love, she's terrified to make the same kind of commitment herself. Brad's kisses make her knees go weak along with her self-control. So she determines to end their relationship before she becomes too emotionally attached. Too late, she realizes her actions were a mistake. Now she wants him back, but klutziness and awful luck conspire to keep them apart. Add a mischievous brother and a terrible shrew to the mix, and you've got a recipe for disaster. Can her three sisters brighten her spirits along with her hair? Will Brad find it in his heart to forgive Grace? Will he be there to catch her when she falls?
Best Girls Book Three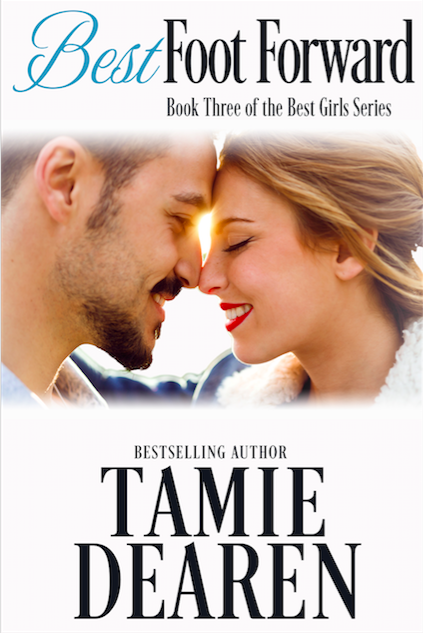 Best Laid Plans
After two futile years of waiting for Charlie Best to profess feelings for him, Josh is admitting defeat. Josh is giving up on love. And he's giving up on Charlie Best. He needs a wife right away and can't afford to wait a minute longer. Wait until you find out why he's in such a rush. By the time Charlie realizes she's in love with Josh, it's too late for them to be together. So she sets out to help him find happiness in someone else's arms. Soon almost everyone is plotting and planning at cross-purposes, trying to convince Josh whom he should marry. Meanwhile, a buxom nurse schemes to snag the handsome doctor for herself.
Best Girls Book Four